Since we launched our new home buyers fire safety inspection in January it has proved popular. Not only for new home owners but for landlords and estate agents where the safety of the appliance has to be thoroughly checked and signed off.
Today we were asked to inspect a multi-fuel stove in Stamford for a young family who have already moved into their house but wanted the stove checking to make sure it was safe before using. There was no paperwork with the stove and nothing mentioned during the sale of the house. Often when sales are going through and even when you pay for the higher level of survey, fireplaces and chimneys are overlooked.
Unfortunately on this occasion the stove was installed very poorly and it was a good job the owner had the fire checked before endangering their family and home. The stove needs to be removed and the whole job starting from scratch all at the new owners expense. We would highly recommend that our new home fireplace check is carried out if there is no paperwork for the stove and it is not signed off.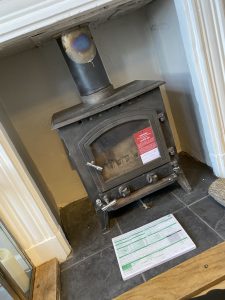 Don't get stuck with someone else's dodgy install, Book your full safety inspection at Alfred Poppins!